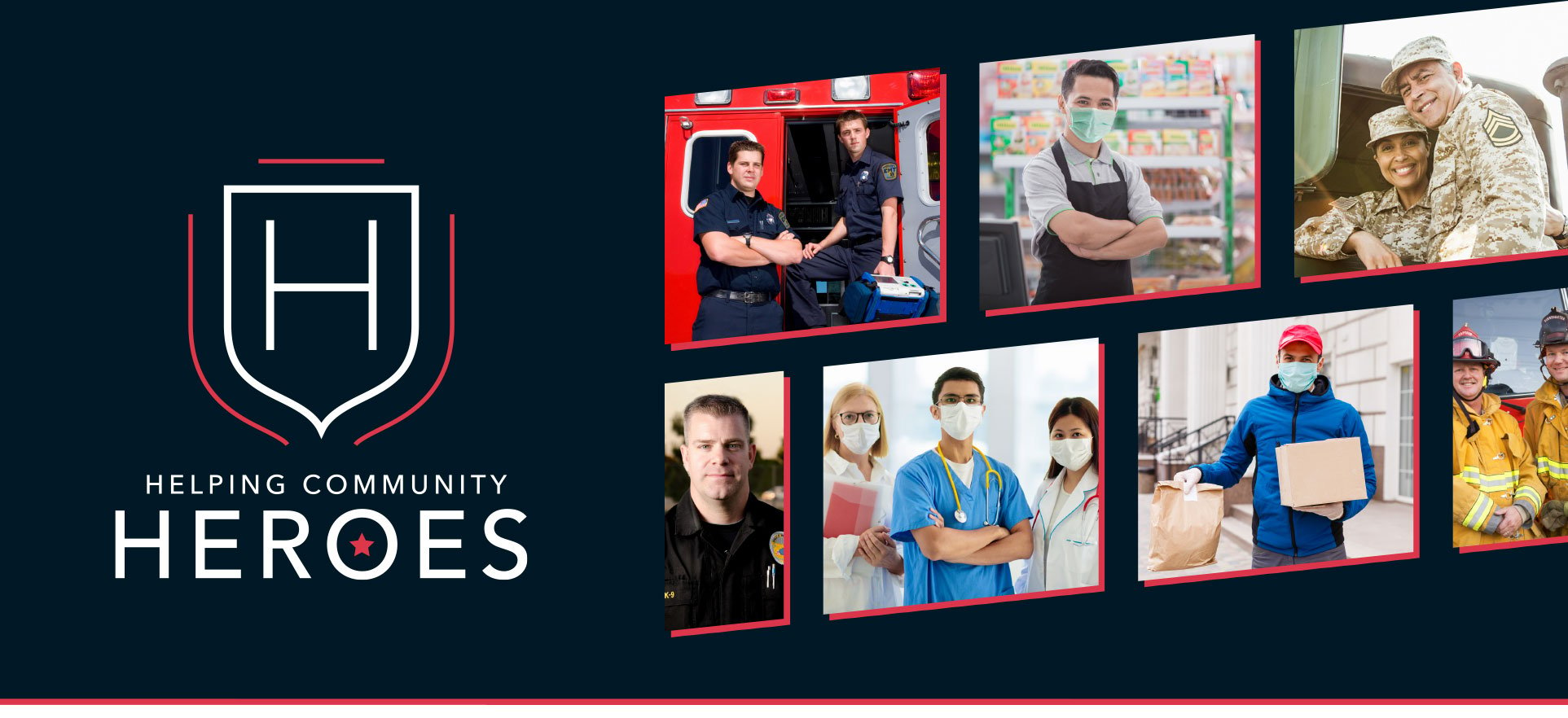 Helping you make housing more affordable
with a ¼% interest rate reduction, free.

To say "thank you" to our essential heroes we will buy down your interest rate by ¼% on your next purchase, and if you have a home to sell, we will offer you substantial SAVINGS as well.

We appreciate that amid COVID-19, First Responders, medical providers, and other essential workers have put everything on the line. To serve you in return, our First Team Family of Companies is making it possible for qualified heroes to take advantage of up to tens of thousands of dollars in SAVINGS when we pay for you to buy down, and reduce your interest rate by ¼% for your mortgage financing for up to 30 years.

Here are the
Possible SAVINGS Examples:*
30-Year Fully Amortized Fixed-Rate Mortgage
with

¼%

Interest Rate Buy Down:

---
$34,278

SAVINGS

on $700,000 Loan Amount
$29,381

SAVINGS

on $600,000 Loan Amount
$24,484

SAVINGS

on $500,000 Loan Amount
$19,587

SAVINGS

on $400,000 Loan Amount

Since 2017, First Team has offered a similar savings program to military households and has been recognized as the #1 contributor to this program nationwide by Leading Real Estate Companies of the World®, the largest network of independent brokerage firms in the U.S.
Take advantage of this program to have us buy down your interest OR apply your substantial SAVINGS directly toward closing costs.
Save TWICE when you buy and sell a home through this limited-time offer.
We thank you for allowing us to stay safe at home.
Now trust us with yours.
For more information on taking advantage of this limited-time offer, contact me.

First Team® Real Estate
Founded in 1976 in Orange County, First Team has been trusted by 250,000 Southern California households for real estate sales and purchases. As a local family-owned business, we are big enough to have the resources and small enough to care.
Homeowners First Mortgage
Homeowners First Mortgage offers hundreds of loan choices to our customers, with our strength rooted in the knowledge and experience of our loan officers. Many of our loan officers have been in the industry for decades and have successfully handled all types of home buying situations. Our team is experienced, professional, and readily available to our customers to answer any questions, address issues, and help them navigate through the mortgage process smoothly.

*Offer provided by First Team Real Estate and may be withdrawn at any time, with or without notice. Offer subject to cooperation of independent brokerage and agent members of the MLS on co-op transactions and consumer's use of First Team Real Estate's affiliate, Homeowners First Mortgage, LLC for financing. Maximum loan amounts apply. Discounts and saving promoted here are estimates only as of 05/6/2021, are based on a market interest rate of 3.25%, and do not bind First Team Real Estate or any of our affiliates. By way of example, a home with a purchase price of $1,000,000 with $700,000 financed at 3.25% / 3.277% APR and borrower-paid closing costs of $2,400 would result in $34,278 in interest savings over a 30-year term. First Team Family of Companies consists of essential services of escrow settlement, title insurance, real estate brokerage, and mortgage finance services. You are advised to seek your own counsel from your accountant or legal advisor. 108 Pacifica, Irvine, CA 92618. Lic# 01008773. © First Team® Real Estate. All rights reserved. This is not intended to solicit a listed property. If your property is currently listed for sale with a broker, please disregard. Financing provided by Homeowners First Mortgage, LLC, 108 Pacifica, Suite 250, Irvine, CA 92618. Corp NMLS#: 1932549 (www.nmlsconsumeraccess.org). Loans made or arranged pursuant to a California Finance Lenders Law license. This communication does not constitute a commitment to lend or the guarantee of a specified interest rate. All loan programs and availability of cash proceeds are subject to credit, underwriting and property approval. Programs, rates, terms and conditions are subject to change without notice. Other restrictions apply.
Testimonials
" Ronna performance was over and above. "
- Donna Nowicki
" Ronna and Danielle are incredible!! No one knows the Orange County area better than this team. My wife and I are extremely busy with work and kids, Ronna & Danielle were always attentive to our needs and responsive to all inquiries. They helped us find and negotiate our dream home. Working with them is everything a home purchasing experience should be. "
- Philong Pham & Anh Mai
" Ronna and Danielle went above and beyond. The 5-star rating really isn't enough for these two. Since we were out of state, researching online was the only way to find an agent. Working with these two agents exceeded any of my expectations. Right away they were incredibly friendly, funny and took the time on short notice to show property. These agents were always available to us, day and night and were quick to get documents to us during the contract negotiation process. "Rooks Ferrando Smith "
-
" Ronna Brant was quite knowledgeable, very experienced and worked very closely with us to secure good tenants for our home in Huntington Beach. We would recommend Ronna to all our friends in selling, buying or renting their property, and I will refer to Ronna for any of my future real estate endeavors. I was most impressed by with Ronna's overall close working relationship with us. "
- Wael & Hadia Bississo
" Seller-Soice 22402 Valdemosa Mission Viejo, CA 92692 Mr. Wally Malesh Office Manager First Team Real Estate 20100 Brookhurst Huntington Beach, CA 92646 Dear Mr. Malesh: We recently listed our property in Garden Grove with Ronna Brant of First Team Real Estate. WE had interviewed three agents and chose Ronna to represent us in this sales effort. We are very pleased that Ronna was our choice, for she did an outstanding job marketing and in finding the right buyer in a very timely manner. Ronna went well beyond the ordinary sales efforts both in listing the property and in covering all the myriad details required to achieve the quick and smooth closing. Ronna was always pleasant, obliging, most cooperative and very professional in all of her efforts on our behalf. We are writing so you will know how much we appreciate her work. Please do not hesitate to use us as a reference for Ronna and First Team Real Estate, which has our unqualified recommendation. Yours very truly, — Mr. and Mrs. Howard Soice "
- Mr. & Mrs. Howard Soice
" Jim and I have known Ronna and the Jerry Beusee team for over 20 years! We wouldn't have gone with any other realtor! They have always been helpful friendly and knows how to set your house up to be sold for the best price we recommend them all the time especially since we have moved. "
- Jim And Barb KAPING
" "I highly recommend Ronna Brant when considering the purchase or sale of a property. There is no better choice! It takes a lot to make a good realtor. A good realtor has follow through, knows the market, and is connested with a great escrow company. They the market trends, they have a long histroy in the area they  market, they care about the people they represent and most of all, they care about the community. Ronna Brant is the epitome of professionalism. It doesn't pay to risk your profit or sanity with anyone else!" "
- Crystal Kerins
" I knew Jerry from past years and his selling of past homes in the area. I always knew I would use him if the time came to sell our home. "
- Gerald & Nancy Lippert
" John W Rowe 9211 Wintergreen Circle Fountain Valley, CA 92708 Wally Malesh, Manager First Team Real Estate 20100 Brookhurst Street Huntington Beach, CA 92646 Dear Sir: During the past eight months since I chose to sell my home and relocate, I have endured a constant barrage of the most irritating laziness, ineptness, incompetence and negligence imaginable from the supposed real estate "Professionals" contracted to represent the sale of my property. The sole shining light during this entire ordeal was your agent, Ronna Brant, who represented me in the recent purchase of my new home. Ronna's consummate professionalism, energetic attitude, and gracious demeanor has proved a credit and example to your profession. Ronna listened and understood my vision and requirements for my new home. The prospective houses which she selected to show me corresponded with these aspirations, and thereby did not waste my time. Yet, in honesty, this is what I expect from a professional, and feel this is what she receives her commission for. However, Ronna's diligence and commitment to her clients far exceeded any such mundane expectations. If there was any award in your profession for service above and beyond the call of duty, Ronna's excellence and unrelenting assistance would mandate such awards be bestowed upon her. Ronna was consistently prompt in responding to my phone calls, and conscientious in making contact with me (a very difficult and praise-worthy accomplishment considering my work).She answered all of my questions in an expeditious, polite, and professional manner. Although her answers were not always what I had hoped to hear, they always proved accurate and trustworthy. Of lesser note (but still highly appreciated by me) Ronna's replies were devoid of superfluous antidotes, horror stories, and proverbial B.S. Countless times throughout this tumultuous period, Ronna proved a priceless asset, but never more than when the buyers of my previous home selected to use an FHA loan. The agents representing the sale of my home refused to assist in the collection of documents required to have my condominium complex approved by FHA, even though several of the documents I was required to collect were obtained from the escrow office immediately next door to their realty office. In contrast (even though she was not directly involved with the sale), Ronna was instrumental in assisting me in collecting the required documentation. The agents representing the sale of my home never even took the time or inclination to contact me with any details or information regarding the sale. To protect the purchase of my new home, Ronna admirably filled the void and keep me abreast on the status of my escrow. In fact, Ronna informed me that my complex had finally been approved by the FHA ten days before the agents representing the sale bothered to mention it to me. I am sure that in the every day world of real estate sales, it might be easy to forget the anxiety and stress of selling and buying a home. The value of a reassuring call or weekly update is incalculable to someone like myself who has little understanding of the escrow process. Ronna obviously understood this. Due to complications with FHA and several other failures of my agents, this process dragged on for 90 days. During this period I felt totally abandoned by the agents contracted to represent me in the sale, but fully supported by Ronna who acted as a detective, coordinator, and trusted counselor. In my opinion her efforts have represented the highest standards of real estate professionalism. It is easy to write a letter of complaint and condemnation (and I assure you the corresponding letter I have mailed to a manager of a Lakewood realty office was far from this positive), but excellence also needs to be noted and acknowledged. With my deepest appreciation — John W. Rowe "
- John W. Rowe
" We were very pleased with Ronna's advice and followed her suggestions which proved to be excellent. The results were the house selling in one week. Ronna knows her business and the neighborhood. The advertising was amazing and very effective. We can't praise First Team Real Estate enough. "
- Tom & Sharon Hritz
" Seller & Buyer – Cooper Jerry Beusee 20100 Brookhurst Street Huntington Beach, CA 92646 Dear Jerry: On behalf of my family, I wish to thank you and Ronna for the outstanding, high quality service you provided in selling our home and finding us a new one in Huntington Beach. Given the circumstances that contributed to our deciding to put our home on the market, your empathy and concern greatly assisted us through the process that would have been more difficult if we selected other real estate brokers. Instead of feeling pressured, we always believed you had our best interests in mind. As you are aware, we considered selling the house ourselves. We could never have matched the outstanding services and personal attention that you and Ronna provided, nor the top dollar you got for our home because of your marketing efforts. With regard to our new home, we are extremely happy with the house and the beautiful neighborhood. You negotiated a great price for us and we feel confident that we got an incredible deal. Sam and Seth are very happy, too. In fact, Sam woke up the other morning and exclaimed to Sandra, "Mommy, I love my new backyard and I'm really having a good time!" His words mean more to us than anything else given the extreme sadness our family has experienced since our daughter, Sarah's death. The house has brought us renewed hope for the future that would not have been possible without you. We wish you and Ronna continued success in Huntington Beach. If we can ever help you in any way, please do not hesitate to ask. Thank you again for your professionalism, dedication and sincere concern for us. Sincerely, — Mark & Sandra Cooper "
- Mark & Sandra Cooper
Previous
Next